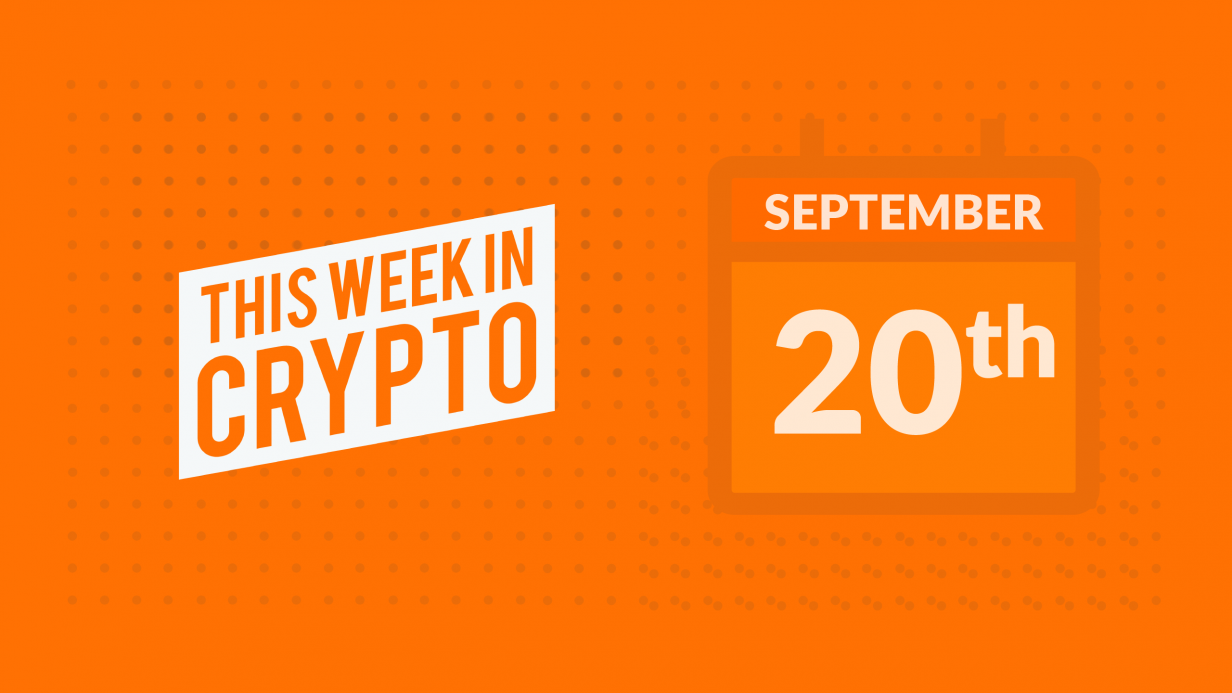 Week of September 20, 2019

This is your weekly roundup for the week ending September 20, 2019. OKEX & UpBit delist privacy coins, JPMorgan, Bank of America, and Wells Fargo pilot blockchain initiatives, and Loom Network is bringing DeFi to the Tron and Binance chains.
☕ Buy Me A Coffee: https://glow.fm/mota
In Exchange News
Binance US Launches in 37 States
Binance US opened for registration and deposits this week. The exchanges has six cryptocurrencies available for trading with no trading fees until November 1st. Binance US CEO Catherine Coley said that the rollout is "gradual" with 13 states not supported until a later date. Among those excluded are New York, Florida and Texas.
User who already have deposits with Binance.com will not see their funds automatically transferred to the U.S. platform. Binance US is a separate entity operated by BAM Trading Services.
Binance Venus Stablecoin Project
Binance is also positioning its stablecoin project Venus as a government-friendly alternative to Facebook's Libra. Under Venus, control over any proposed stablecoin stays with the government issuing it; the government decides how to collateralize the coins and how many to mint.
Binance chief compliance officer Samuel Lim says that in the next three to six months Binance will be moving heavily towards partnerships with governments, central banks, and large corporates. Lim added that Venus would give governments global financial access, instant liquidity, and the ability to experiment with new financial instruments.
OKEX & UpBit Delist Privacy Coins
South Korean exchanges OKEX and UpBit have delisted privacy coins in light of guidelines of the Financial Action Task Force (FATF). The exchanges will no longer support monero, zcash, and dash. OKEX stated "it is recommended that exchanges be able to collect relevant information such as the name and address of the sender and recipient of the virtual asset." Coinbase UK also dropped support for zcash last month.
Huobi Expands to Argentina
Singapore-based exchange Huobi is launching Huobi Argentina, enabling users to purchase digital currencies with Argentine Pesos (ARS) via OTC trading. In October, Huobi plans to open a fiat gateway for the exchange, enabling people to buy cryptocurrencies via credit cards, wire transfers and local payment Mercadopago. Cryptocurrencies are gaining acceptance in the region amid the devaluation of the Argentine peso.
LINE Launches Crypto Exchange
Messaging app LINE has launched a cryptocurrency exchange service for its 80 million Japan based users. The new exchange, called Bitmax, is now live with trading of five crypto assets including bitcoin, ethereum, ripple, bitcoin cash, and litecoin. No fees are charged for trading, though a charge of 108 yen will be applied for deposits and withdrawals. LINE utilizes a wallet developed by BitGo to segregate customer assets and store assets in a cold wallet.
CME Group Bitcoin Options Q1 2020
CME Group has announced that it will offer options on its bitcoin futures contracts starting in Q1 2020. CME Group said the launch of bitcoin options is aimed to provide clients with additional tools for precision hedging and trading. The launch is pending regulatory review. CME's rival Intercontinental Exchange and its subsidiary Bakkt will begin offering a new futures product on September 23rd.
Coinbase Explores 17 Altcoins
Coinbase is exploring support for 17 new digital assets, including Filecoin, Polkadot, and Telegram. It's unlikely that Coinbase will add all 17 coins, as Coinbase only added two of the eight coins under consideration last month. One of them was dash, which was added to Coinbase Pro earlier this week following an investigative period.
In Regulatory News
Upcoming Financial Services Committee Meeting
The U.S. Financial Services Committee plans to question the Securities and Exchange Commission (SEC) about cryptocurrencies and Facebook's Libra project next week. The hearing will cover the SEC's actions around the cryptocurrency space, as well as private markets vs. public markets; public company disclosures; enforcement; and fiduciary responsibilities. The SEC is currently reviewing two bitcoin ETF proposals, filed by Bitwise Asset Management and Wilshire Phoenix.
China Cracks Down On Mining
China's inner Mongolia region is carrying out an inspection to eliminate "illegal" bitcoin mining operations by this October. According to an industry executive involved in the planning process, the inspection is directed by the central government. Authorities will target any bitcoin mining operation that tries to get preferential electricity prices and tax breaks by pretending to be a sanctioned user. Cryptocurrency mining and trading is illegal in China as part of a broader currency control.
German Government Blockchain Strategy
Germany's government has passed a new strategy outlining the ways it plans to use blockchains. The strategy sets the government's priorities in the blockchain space, such as digital identity, securities, and corporate finance. It also sets out that the state won't tolerate the threat to state money by stablecoins. The government heavily encourages the use of interoperable and open-source software and wants applications to be somehow controlled by the public and certified by an official institution.
ICOBox Securities Violations
The SEC has charged token sale Platform ICOBox with securities violations. The ICO raised $14.6 million by selling "ICOS" tokens to more than 2,000 individuals, promising customers that the tokens would increase in value once it began trading. According to the complaint, the ICOS tokens are virtually worthless. In addition, ICOBox facilitated the sale of another $650 million in token sales for several clients, thereby acting as an unregistered broker.
In Banking News
OCBC Joins JPMorgan's Blockchain Initiative
Southeast Asia's second-largest bank, OCBC has joined JPMorgan's Interbank Information Network, a permissioned blockchain built on Quorum and developed in-house by JPMorgan. The Interbank Information Network is designed to enable more than 300 member banks to exchange information in real-time as a way to verify that a payment has been approved.
Bank of America Joins R3's Marco Polo
Bank of America joined R3's Corda-powered Marco Polo Network to bring efficiencies to international trade and offer better services for clients. Geoff Brady, Head of Global Trade at Bank of America, stated "Joining the Marco Polo Network supports our strategic objective of turning technology advances into trade solutions that address client needs. We look forward to exploring how the new technology can generate greater transparency for our clients throughout the transaction lifecycle, making traditionally paper-based, opaque processes easier and more efficient." This follows the footsteps of Mastercard, who recently joined R3's Corda project earlier this month.
Wells Fargo Pilots Stablecoin
Wells Fargo is also using R3's Corda Enterprise software. It's using it to test a stablecoin for handling internal book transfers, when funds move from a payer's account to a payee's account at the same bank. Unlike JPMorgan's JPM Coin, Wells Fargo's digital cash will be backed 1-for-1 with fiat. Wells Fargo will hold the fiat currency and will issue digital cash tokens. The tokens are placed into digital wallets and are able to be exchanged. Wells Fargo Digital Cash is strictly an internal settlement service and will go into a pilot phase next year. Using the digital cash would allow the bank to move funds cross border 20 hours a day, rather than only six to nine hours when it uses SWIFT.
In Product News
Hedera Hashgraph Is Live
Hedera Hashgraph's public network went live this week, enabling anyone to build a decentralized application the Hashgraph. Hedera claims the network can support up to 10,000 transactions per second, however former blockchain lead of a Nasdaq-owned fintech Eric Wall says that Hedera is currently peaking 10 transactions per second with smart contracts. The Hedera Consensus Service (HCS) links private blockchains to the hashgraph network.
Buy Crypto At 7-Eleven Philippines
Investment app provider Abra has partnered with ECPAY to provide fiat-to-crypto outlets across 6,000 locations in the philippines, including all 7-eleven stores. The service lets any user of an Abra wallet purchase crypto via 7-Eleven's CLIQQ app or kiosks. There's a minimum deposit requirement of $9.59 and a maximum purchase of $1,900 per day.
Loom Brings DeFi To Tron And Binance Chains
MakerDAO's dai stablecoin will be implemented on the tron and binance chains in the near future through Loom Network, a Layer 2 scaling solution for the ethereum blockchain. Loom Network CEO and co-founder Matthew Campbell says interoperability with other chains has long been a key vision for the Loom Network.
Loom says their network will operate as a Layer 1 'transit hub,' shuffling funds between different protocols such as etherum, tron, or binance. Transfers between chains will be secured through multi-signature validations on the Loom Network which requires verification from three-quarters plus one of all Loom validators before transactions can be signed off.