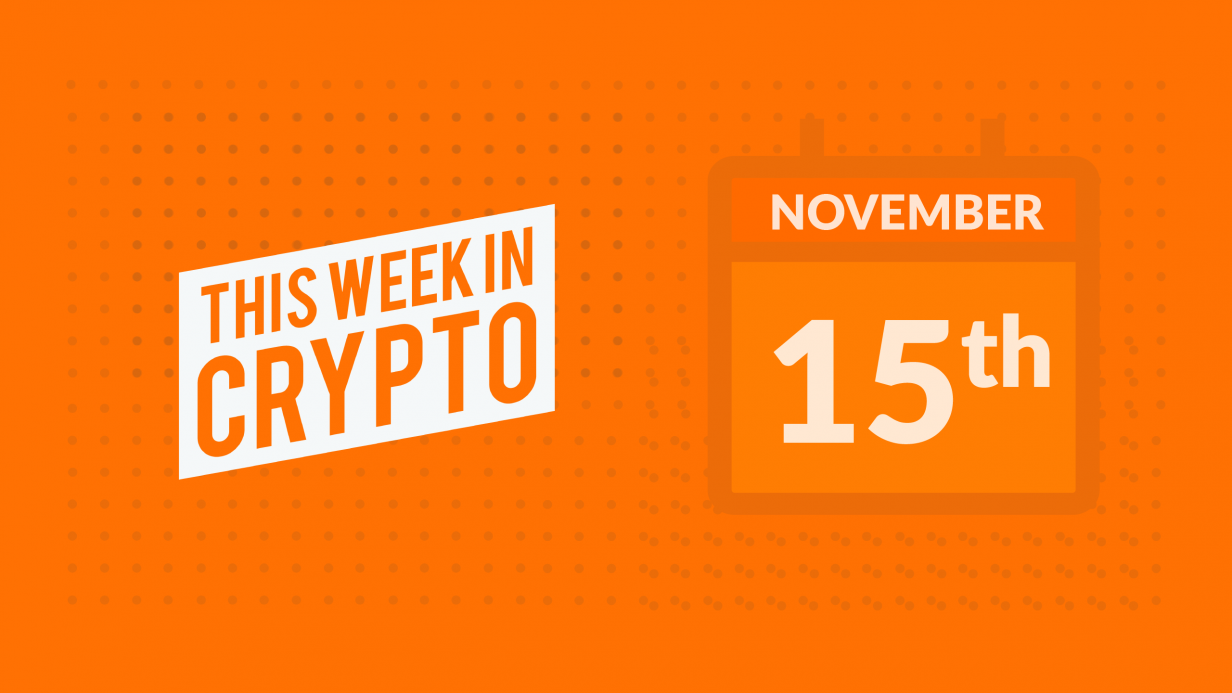 Week of November 15, 2019

This is you weekly roundup for the week ending November 15, 2019. Bithumb Launches Bithumb Coin (BT), CME Group plans to offer bitcoin options in 2020, and Multi-Collateral Dai (MCD) will launch next week.
📧 Subscribe to my daily newsletter on https://mota.substack.com.
Bithumb Launches Bithumb Coin (BT)
Bithumb Global has launched a native token for Bithumb Chain. Bithumb claims the Bithumb Coin (BT) will work as a medium of exchange for the ecosystem and expects to launch Bithumb Chain sometime in Q1 2020.
The exchange will mint a hard cap of 300 million tokens and will burn 50 percent of the supply over time, similar to Binance Coin (BNB). The initial token distribution will be split between on-exchange incentives and chain development. Bithumb says the coin can be used for handling fees, rights to use Bithumb Chain, voting, and future payment mechanisms.
HTC Launches EXODUS 1 Binance Edition
HTC announced the release of the "EXODUS 1 Binance Edition" smartphone that will be integrated with Binance Chain via the device's native Zion Vault wallet. Binance and Trust Wallet apps will be preinstalled on the device and users will be able to trade on the Binance DEX.
Binance CEO CZ stated "Smartphones will play a key role in the mass adoption of crypto and smartphones are the most natural devices for a hardware wallet that is simple to use and always with you. Crypto, on the other hand, will make every smartphone both a POS terminal and payment device, cutting out most other middlemen." The new device will retail for $599 USD.
CME Bitcoin Options In 2020
CME Group has announced it will launch options on its bitcoin futures contracts on January 13, 2020. CME published details of the options product, saying each contract would be based on one bitcoin futures contract comprising of five bitcoin. They will be quoted in U.S. dollars per bitcoin with a tick size of $25 and will trade between 5:00 P.M. Central Time on Sundays to 4:00 P.M. Central Time Fridays.
According to CME, its bitcoin futures contracts has seen an average daily volume of over 6,500 contracts this year, which equates to roughly 32,500 bitcoin. There are now more than 3,500 individual accounts registered for trading products, and almost half of trading volume comes from outside the U.S.
Bakkt To Offer Cash-Settled Bitcoin Futures
Adam White, COO at Bakkt, said the exchange plans to offer cash-settled futures before the end of the year. The new cash-settled monthly futures will be offered through ICE's Singapore-based clearinghouse and traded on ICE Futures Singapore.
Traders outside of Singapore will be able to access the product, similarly to how traders outside the U.S. can access its current physically-settled bitcoin futures. Bakkt also announced that it would expand its custody services to institutional clients. At the moment, only CME Group offers cash-settled bitcoin futures contracts in the U.S.
Crypto.com Announces New Exchange
Crypto.com has announced the launch of a new exchange with a beta release on Nov. 18. At launch, the exchange will support their own CRO token, tether, ether, stellar, XRP, EOS, litecoin, and MCO. The company expects to add more assets over time including support for margin trading and access on the crypto.com mobile app.
Crypto.com also launched a fundraising platform for blockchain startups called The Syndicate. Startups will be able to raise capital while keeping equity as digital asset issuers will provide a certain number of their tokens to Crypto.com for a discounted pre-sale open to holders of the exchange's native CRO token.
Ledger Vault $150 Million Insurance
Users of Ledger Vault are now insured by a $150 million insurance policy from UK insurance company Arch. Vault is Ledger's institutional product that provides tools for clients to store their own crypto.
Insuring funds is widely considered a prerequisite for institutional investment. In the past year, several crypto custodians have proclaimed to have insurance coverage in hundreds of millions. Demetrios Skalkotos, global head of Ledger, stated "We didn't have to do this. We are buying insurance for the Vault platform at no additional cost to customers"
The insurance policy covers third-party theft of the master seed and private keys following a physical breach of a hardware security module in a secure data center, secure transmissions of the master seed fragments as part of the client on-boarding, and insider Ledger employee theft caused by collusion. Vault clients also have the ability to directly purchase their own primary coverage on top of the Ledger Vault policy. Ledger says they have over 40 clients using the product, including Bitstamp, Uphold and Crypto.com.
Justin Sun Admits Poloniex Investment
Tron founder Justin Sun admitted during a Twitter livestream that Tron is part of the investor group that recently acquired Poloniex. Sun also claimed that Poloniex is operated independently from Tron. Poloniex listed the TRX token this week. According to Sun, Chinese users will be able to log into Poloniex through a new domain called pwang.com – and the exchange will accept Chinese government IDs for KYC.
BRICS Explores Cryptocurrency For Trade
The BRICS association has begun discussing the possibility of developing a digital currency to ease trade. Kirill Dmitriev, director general of the Russian Direct Investment Fund (RDIF) told reporters that the recent forum had proposed a single cryptocurrency for settlements between members.
Another member described the BRICS digital currency as paperless document flow to facilitate transactions, rather than a digital form of money. The new payments system, which would use BRICS national currencies, could further reduce reliance on U.S. dollars. Dmitriev said BRICS has already reduced its use of USD in settlements over the last five years from 92 to 50 percent, while ruble-based transactions climbed from 3 to 14 percent.
Polkadot Explores Kadena's "Pact" Language
The Web3 Foundation and Kadena signed an agreement to research how Kadena's programming language Pact can be integrated into different blockchain platforms, beginning with Polkadot. Kadena claims Pact is one of the first human-readable languages to execute smart contracts with formal verification, designed to facilitate smart contract executions among developers that use different blockchains. Kadena hopes that Pact will become universal smart contract language.
Multi-Collateral Dai (MCD) Live On Monday
On Monday, Maker will launch Multi-Collateral Dai (MCD), a version of Dai that will support new CDP collateral types and a Dai Savings Rate. The entire Maker core of smart contracts has been rewritten to support MCD. The old DAI will be gradually phased out and become known as Single-Collateral Dai (SAI).
Users integrating with DAI must convert their existing Single Collateral Dai tokens (Sai) to Multi Collateral Dai tokens (Dai) and migrate CDPs to the new system. Projects integrated with Sai and CDPs must update their codebases to point to the new smart contracts, and refactor their code to support the updated functions. Compound confirmed they'll support the new DAI and some wallets like Argent will make converting DAI a single tap process.