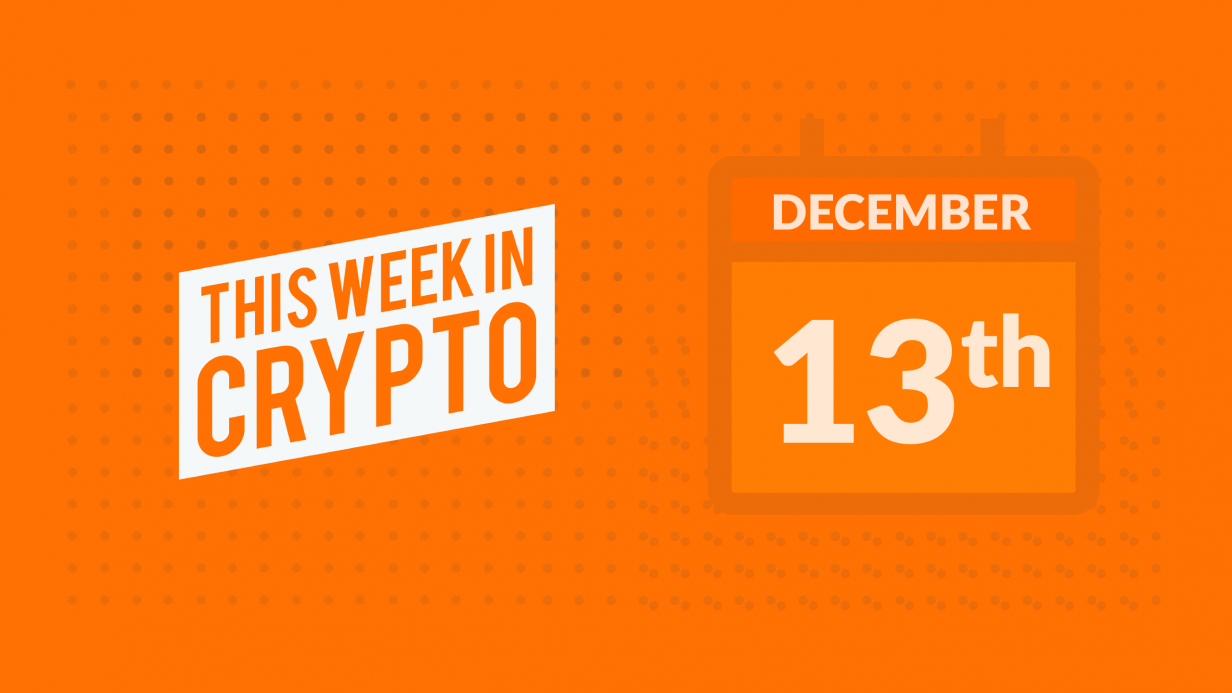 Week of December 13, 2019

Here's the rundown from This Week in Crypto:
More than 80 Japanese banks have expressed interest in joining JP Morgan's Interbank Information Network (IIN), a platform for exchanging information related to international payments.

Nike has been granted a

patent

for tokenizing shoes as an NFT on Ethereum.

Stellar has

cancelled

its 2 billion XLM airdrop to Keybase users after combating thousands of bots.

Enterprise blockchain platform VeChain was

hacked

of 1.1 billion VET tokens worth an estimated $6.5 million.

Lightcurve, an application platform by Lisk, has laid-off 21 of its 53 employees.
Bitcoin Beats Netflix And Microsoft
According to a report from Charles Schwab, Grayscale Investments Bitcoin Trust is among the top five equity holdings for Millennials, ahead of Netflix, Alibaba, Walt Disney, and Microsoft.
The Grayscale Bitcoin Trust was found to be held by 1.84% of Millennials surveyed by Charles Schwab. Amazon and Apple were found to be amongst the top two holdings across the board for Millennials, Gen X, and Boomers. The Grayscale Investments Bitcoin Trust is a publicly traded stock that offers investors exposure to Bitcoin in the form of a security.
Grayscale Investments CEO Barry Silbert says "There is a generational shift in how individuals are approaching investing. We strongly believe that investments in gold will be reallocated to bitcoin as Baby Boomers begin transferring their wealth to a younger generation of investors, one that wasn't raised on the gold standard,"
SpaceChain Sends Bitcoin Node To Space
SpaceChain has sent a bitcoin node to the International Space Station via a SpaceX Falcon 9 rocket, making it the first active bitcoin node on the ISS. The wallet will be installed by astronauts and will operate for about a year, securing multi-signature transactions from space. SpaceChain is focused on building a decentralized open-source blockchain-based satellite network. The wallet itself will be beyond any jurisdiction and out of each from any physical hardware hacks.
A few months ago SpaceChain received a 60,000 euro grant from the European Space Agency. SpaceChain CEO Zee Zheng said that the company put all of its resources into the recent launch, noting the challenges of having to adapt their technology to work in space. Zheng said that SpaceChain is going to use an Indian rocket for a mission in March, insisting that the company is rocket agnostic.
Nike Secured a Patent for "CryptoKicks"
Nike has been granted a patent for tokenizing shoes as an NFT on Ethereum. The so-called digital "CryptoKicks" would be unlocked with the purchase of a corresponding physical shoe by linking a 10-digit shoe identification code. The patent also proposes the idea for breeding the digital shoes, much like cryptokitties, to create a custom "shoe offspring" that can be ordered as a new, tangible pair of shoes.
The system aims to provide a way to ensure authenticity of goods and verification of the scarcity of the shoes in circulation. When the footwear is sold, ownership of the digital token can be passed on alongside the physical product. The property of those tokens would be managed in a dedicated app.
The system is looking to enhance brand engagement, giving users more control over their shoes and shoe designs. The patent highlights that owners can set limits on how many copies of their proprietary shoes can be produced. 
Japanese Banks Seek Interbank Information Network
More than 80 Japanese banks have expressed interest in joining JP Morgan's Interbank Information Network (IIN), a platform for exchanging information related to international payments. Japan has long been scrutinized for weak measures against money laundering and terrorism financing ever since a Financial Action Task Force (FATF) report found deficiencies in 2014.
The Financial Action Task Force recently completed an on-site inspection of Japan and plans to announce the results next year. Japanese banks are likely seeking to use the platform to speed up and improve screening of cash recipients. According to JP Morgan's website, several parties can request and share information simultaneously when a payment is flagged for confirmation.
JP Morgan executive director Daizaburo Sanai says that the Interbank Information Network plans to go live in Japan as early as January. Tokyo-based Sumitomo Mitsui Trust Bank Ltd is among the lenders that have already signed a letter of intent to join the network. First launched in 2017 as a pilot, the network currently has over 360 worldwide members, including Deutsche Bank, Royal Bank of Canada and ANZ Banking Group. 
Stellar Cancels 2B XLM Airdrop On Keybase
Stellar has cancelled its 2 billion XLM airdrop to Keybase users after combating thousands of bots. In September, the Stellar Development Foundation announced its plans to airdrop 2 billion XLM, valued at over $100 million, to users of Keybase over a 20-month period. Keybase users would receive several dollars in XLM with each airdrop.
The amount of crypto offered was too little for some to bother with, but worthwhile for someone with the ability to write scripts for running bots. Anticipating the likeness of spammers, Keybase went through several levels of checks before allowing accounts to join the airdrop.
On the first check, any account that existed before the airdrop was announced was assumed to be real. On the next check, the airdrop was opened up to any new account verified on Hacker News or GitHub. However, this spammers to look for dormant accounts on the platforms. Since bot farms have access to the millions of user IDs and passwords that have been compromised in the past, a spammer would just need to write a script to check a site to see if any of the credentials work for old, unused accounts.
Both GitHub and Hacker News contacted Keybase to let them know of increased operational strain from bots. For the November airdrop, Keybase further decided to use a combination of SMS verification and its own filters to demonstrate human-like behavior. However, Keybase says about 150,000 signups made it through.
Keybase CEO Max Krohn says the campaign definitely achieved the goal of getting more users onto Keybase and more people onto Stellar, but at a certain point the costs started to outweigh the benefits. Keybase announced the final airdrop for Dec. 13th and total giveaway only amounted to 300 million Lumens, about 15% of the original amount.
VeChain Foundation Hacked of $6.5M in VET
Enterprise blockchain platform VeChain was hacked of 1.1 billion VET tokens worth an estimated $6.5 million. The VeChain Foundation's buyback wallet was compromised by a hacker that withdrew the funds to a private address. The firm says it has tagged and tracked the funds and is working with cybersecurity firm Hacken to isolate the flow of tokens to various exchanges. According to data provider Messari, the hacked funds represent a little over 1 percent of outstanding VET tokens.
VeChain says the hack was a result of human error within the foundation, stating "We have narrowed down the possibilities enough to lead to a highly probable theory. Security breach was most likely due to misconduct of one of the team members within our finance team."
Lisk Cuts Off 21 Employees
Lightcurve, an application platform by Lisk, has laid-off 21 of its 53 employees. In addition, the contracts of three employees who were yet to join were also terminated.
Lisk co-founder Max Kordek announced the lay-offs on Discord, citing a need for the project to cut costs. Kordek stated "The reasons were to decrease our burn rate which by a large degree consisted of human resources costs, and to decrease our operational overhead in order to become more agile again." Based in Berlin, Lightcurve serves as the Lisk Foundation's main research and development studio. In 2016, Lisk raised over 14,000 bitcoin during its ICO, currently worth over $100 million. 
Lisk is just the latest in a slew of lay-offs. Circle laid-off an additional 10 employees, following an estimated cut of 30 staff members back in May. Consensys also shut down its offices in India and the Philippines, resulting in cutting off 11 employees. Lastly, Chainalysis laid off 39 employees last month.
BitMEX Enables Bech32 Withdraw Support
BitMEX has added withdraw support for bitcoin in the native SegWit (Bech32) address format, also known as bc1. SegWit is an optional protocol upgrade to help add more transactions in one megabyte blocks. According to BitMEX, Segwit transactions are 25 to 40 percent smaller in size when compared to legacy transactions, lowering the costs for users. 
BitMEX says that users will still need to send deposits to their Pay to Script Hash (P2SH) addresses. In October, Bitfinex also added native SegWit support for bitcoin withdrawals. 
Weibo Removes TRON and Binance Accounts
Chinese social media platform Weibo has blocked the accounts of Binance co-founder Yi He and TRON founder Justin Sun. The message reads "the account has been blocked due to violations of laws and regulations and the relevant provisions of the Weibo Community Convention."
All content on the accounts has been removed and are no longer searchable. Both founders created new Weibo accounts, which have also been blocked. Meanwhile, the accounts of Binance CEO CZ, Huobi CEO Leon Li, and OKCoin founder Star Xu remain intact. In November, Weibo blocked the accounts of Binance and the Tron Foundation, citing similar reasons. Binance then registered a new account, which is still active at this time. 
Robinhood Rolls Out $1 Fractional Stocks
Robinhood is rolling out fractional trading, allowing users to trade stocks with as little as $1. The announcement comes among increased competition as Cash App added support for fractional trading in October and brokerage giant Charles Schwab announced a plan to do the same. Last month, JPMorgan Chase also released a similar feature allowing clients with less than $5,000 in ETFs and cash balances to trade fractional shares.
According to Business Insider, fractional trading will first become available to a portion of Robinhood's 10 million approved users while the rest will gain access by the end of this year or in early 2020. Robinhood has been actively growing and diversifying its services, now targeting the first-time investor. In November, the company also expanded its cryptocurrency trading service to 8 more states and recently announced its plan to launch a cash management account.
Kraken Launches Tezos Staking
Kraken has announced the launch of their staking service, with initial support for Tezos (XYT). As of Friday, Dec. 13th, users can leverage Proof of Stake (POS) holdings to safeguard crypto networks and obtain rewards. According to Kraken, users can earn a fixed 6% return on Tezos and receive rewards instantly rather than waiting for the usual 21 day cycle period in Tezos. Kraken follows in the footsteps of Coinbase and Binance which have also added staking support.
Orchid OXT Gets Listed On Coinbase Pro
Coinbase has announced the listing of Orchid's ethereum-based OXT token on Coinbase Pro. Earlier this year, Coinbase was exploring to add Orchid among other digital assets Polkadot and Kadena. 
The release of the OXT token coincides with the release of an app that is now live on Linux and Android, aiming to make web browsing more secure. Users can access Orchid's decentralized VPN service that connects them to a global pool of bandwidth providers by paying in the form of Orchid tokens. Providers act as network nodes by staking OXT tokens to share their surplus bandwidth.
In 2017, Orchid Labs conducted a pre-sale through a Reg D private placement which raised $4.9 million and raised an additional $43 million in Q2 of 2018. According to Orchid Labs, one billion tokens were created to power the network. Larry Cermak of The Block notes that Orchid started trading lower than its ICO price at ~$0.34, but it sold for $0.70 during its presale in 2018.
Coinbase CEO Brian Armstrong To Teach At A16z
Coinbase CEO Brian Armstrong is one of the recently announced instructors for VC firm a16z's Crypto Startup School, which starts on Feb. 21, 2020. Other teachers include executives from a16z, Celo, Compound Finance, and Parity Technologies. A16z Crypto Startup School was first announced in October with program mentors from Paradigm, Union Square Ventures, Galaxy Digital, and Calibra.
---
I hope you enjoyed this week's episode. Please support this podcast by leaving a review on Apple Podcasts and subscribing on your favorite podcast app. Follow us on Twitter to let us know your thoughts, thanks for listening!