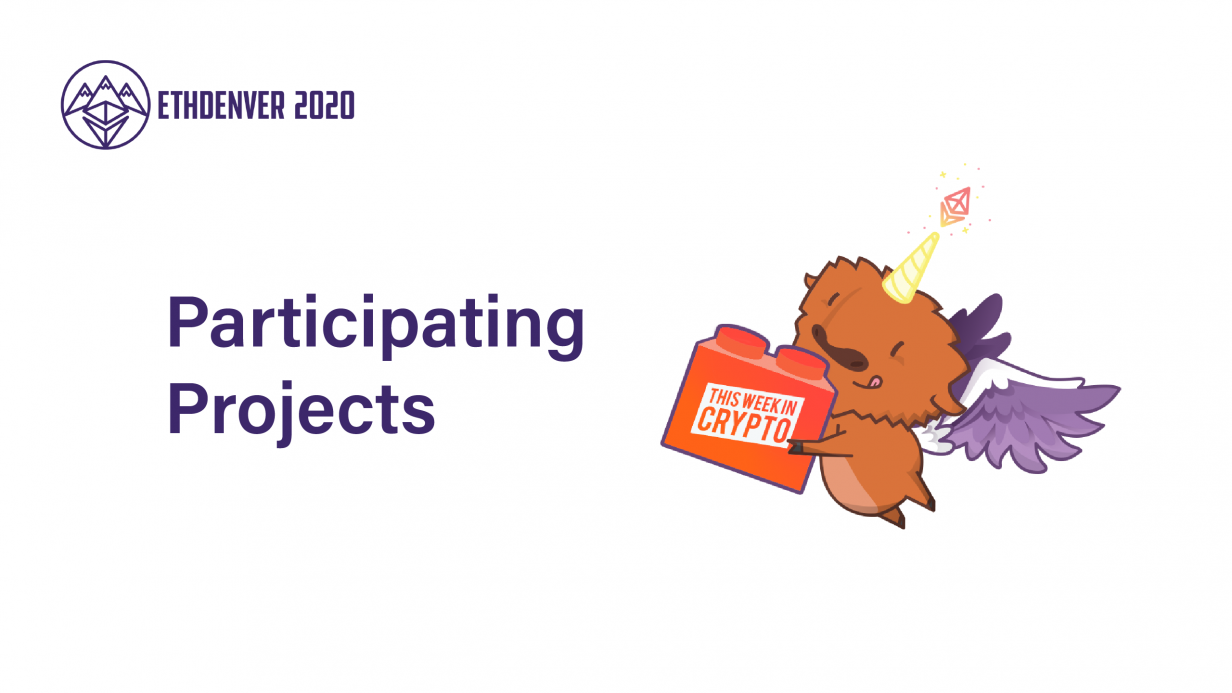 Projects Attending ETHDenver 2020
ETHDenver is the largest Ethereum hackathon in the United States, bringing together like minds around a common purpose. The event is about empowering participants to shape this new world while cementing the Rocky Mountain region and the State of Colorado as a thriving hub of Ethereum blockchain innovation. ETHDenver is the place to be to network, partner, BUDL, and accelerate your project within the ethereum community.
Feb. 10th-12th – BUIDL Week in Denver, Boulder, Colorado Springs

Feb. 13th – Open Source Co-Working at Sports Castle

Feb. 14th-16th – ETHDenver at Sports Castle

Feb. 17th-20th – Mountain Retreat in Breckenridge
Want to join us for an on-site interview at ETHDenver? Apply Here
Orgs & Foundations
Ethereum Foundation
Ethereum Foundation is a non-profit foundation with a mission is to promote and support the Ethereum platform and base layer research, development and education to bring decentralized protocols and tools to the world that empower developers to produce next-generation decentralized applications (dapps)."
Consensys
ConsenSys is solving real-world problems with Ethereum blockchain solutions for organizations of all sizes, from the local community to the global enterprise. With a more trustworthy internet architecture, ConsenSys builds software to help individuals, enterprises, and governments unlock new business models, gain efficiencies through a shared IT infrastructure, and utilize modern cryptographic methods to safeguard private user data.
Enterprise Ethereum Alliance
The Enterprise Ethereum Alliance is a member-led industry organization whose objective is to drive the use of Ethereum blockchain technology as an open-standard to empower ALL enterprises. Members are thought leaders from around the globe with a shared vision to create enterprise-ready solutions.
ETHGlobal
Supported by the Ethereum Foundation, ETHGlobal helps run hackathons all over the world, including ETHWaterloo and Hack the North. ETHGlobal hackathons that foster a world-class ecosystem of Ethereum developers and entrepreneurs, collectively building Web 3. ETHGlobal hackathons teach new skills, strengthen developer communities, and push the limits of new technologies, with a goal to be the best on-ramp to the global Ethereum community.
UNICEF
The United Nations Children's Fund is a United Nations agency responsible for providing humanitarian and developmental aid to children around the world. UNICEF works in more than 190 countries and territories to reach the most disadvantaged children and adolescents – and to protect the rights of every child.
ETC Cooperative
The ETC Cooperative is a public charity that seeks to accelerate the growth of Ethereum Classic. The tech stack is common to Ethereum, Ethereum Classic, Enterprise Ethereum, EVM-in-Fabric and to other emerging related smart contract platforms.
Ethereum Classic Labs
Ethereum Classic Labs are one of the first incubators which support innovative projects on the Ethereum Classic Blockchain, accelerating development of the Ethereum Classic community & ecosystem.
Ethereum Classic Core
Ethereum Classic is an open-source, public, blockchain-based distributed computing platform featuring smart contract (scripting) functionality. It provides a decentralized Turing-complete virtual machine, the Ethereum Virtual Machine (EVM), which can execute scripts using an international network of public nodes.
CryptoChicks
CryptoChicks is an international hub for women talent in blockchain technology with programs in Canada, US, Russia, Pakistan and Bahamas and major hackathon events that are supported by Royal Bank of Canada, Deloitte, Microsoft, IBM.
Singularity University
Singularity University is a global learning and innovation community using exponential technologies to tackle the world's biggest challenges and build a better future for all. Singularity offers executive educational programs, a business incubator, and an innovation consultancy service.
Funding
Gitcoin
Gitcoin is a community for freelance developers to collaborate and monetize their skills while working on Open Source projects through bounties paid in crypto. By programming rights of stakeholders directly into Ethereum smart contracts, actors are incentivized to provide value and edge cases are handled without having to involve legacy legal enforcement mechanisms. We're also on Gitcoin, support us here.
Zero G Capital
Zero G Capital is an early-stage investment fund offering entrepreneurs funding to accelerate their business's growth during the critical seed stage. Zero G goes beyond providing a source of funds by helping founders with strategic, financial, and operational advice as well as critical industry connections, enabling companies to rapidly grow and increase value for all stakeholders.
CoinFund
CoinFund is an investment firm founded in 2015 and based in Brooklyn, New York. CoinFund invests in venture and liquid opportunities within the blockchain sector with a focus on digital assets, decentralization technologies, and their key enabling infrastructure.
Dragonfly Capital
Dragonfly Capital is an investment banking firm headquartered in Charlotte, North Carolina. We focus on the specific needs of the management and owners of small and middle-market companies.
Hashed
Hashed is the largest crypto assets fund and community builder based in South Korea and San Francisco. The team was founded by serial entrepreneurs, company operators, and systems engineers, who are passionate about enabling the global adoption of blockchain.
1confirmation
Founded by Nick Tomaino and backed by individuals like Peter Thiel, Marc Andreessen, and Mark Cuban and institutions like Horsley Bridge and Runa Capital, 1confirmation is a venture fund with $75M+ in AUM that supports exceptional founders fueling the decentralization of the web and society.
Multicoin Capital
Multicoin Capital is a thesis-driven investment firm that invests in cryptocurrencies, tokens, and blockchain companies reshaping trillion-dollar markets. Multicoin invests in the seed stage, and plans to support entrepreneurs over multiple rounds of investment in both private and public markets. 
Dekrypt Capital
Dekrypt Capital is a leading investment firm focused on blockchain infrastructure, privacy-preserving technologies, and early-stage ventures. Dekrypt invests in, mentors, and accelerates teams developing novel solutions to address the core issues of scalability, privacy, and interoperability for decentralized protocols and applications.
DAOs
Colony
Colony is a protocol for self-organizing teams that run via software rather than paperwork. In a typical organization, the rules for decision-making, compensation, ownership, and seniority exist in documents. Colony encodes those rules in smart contracts deployed on the Ethereum Blockchain.
MarketingDAO
MarketingDAO is a grassroots group of marketing, communications, and design professionals in the Ethereum community. MarketingDAO has a shared belief that Ethereum, the leading blockchain platform, deserves thoughtful, professional, and well-coordinated marketing.
DAOstack
DAOstack is designed to catalyze the future of collaboration. It's a platform for decentralized governance that enables collectives to self-organize around shared goals or values, easily and efficiently. DAOstack is sometimes called an operating system for collective intelligence, or a WordPress for DAOs
MakerDAO
Maker DAO is a decentralized autonomous organization within the Ethereum blockchain. Maker works to minimize the volatility of DAI, its stable token, compared to the U.S. dollar, with holders of MKR tokens governing DAI. What makes it unique is each DAI is backed by Ether and ERC20 tokens.
Wallets
Authereum
Authereum is a login and wallet solution for dApp developers who want to provide their users with web2-like user experience while maintaining censorship resistance. 
Fortmatic
Fortmatic is a Web 3-compatible JavaScript SDK that enables end-users to interact with any dapp with just their phone numbers on any modern desktop or mobile browser.
MyCrypto
Forked from MyEtherWallet, MyCrypto is an open-source client-side tool for interacting with the blockchain. MyCrypto gives users a simple interface to use, access, and move tokens. MyCrypto never transmits, receives or stores your private key, or password, users are in control of their private keys.
Marketplaces
Kyber Network
Kyber Network is an Ethereum-based protocol that allows the "instant exchange and conversion of digital assets (e.g. crypto tokens) and cryptocurrencies (e.g. Ether, Bitcoin, ZCash) with high liquidity." It's similar to the 0x project but instead performs all its actions on the blockchain.
ShapeShift
ShapeShift is the leading instant digital asset exchange, supporting dozens of blockchain tokens. ShapeShift's web and API platform gives users the power to quickly swap between assets in a seamless, safe, and secure environment.
Bancor
Bancor is a blockchain protocol that allows users to convert between different tokens directly as opposed to exchanging them on cryptocurrency markets.
OpenSea
OpenSea is a decentralized marketplace for digital goods, including collectibles, gaming items, digital art, and other digital assets that are backed by a blockchain like Ethereum. On OpenSea, you can buy, sell, and trade any of these items with anyone in the world.
Unstoppable Domains
Unstoppable Domains is a building domains on blockchains. The company is backed by Draper Associates and Boost VC and has received grants from the Ethereum Foundation and the Zilliqa Foundation.
Protocols, DApps, & Layer 2
Codefi Networks
Codefi is the blockchain operating system powering commerce and finance, built to optimize business processes and digitize financial instruments. Codefi provides a suite of tools empowering anyone to utilize tokens and participate in decentralized networks
Orchid
Orchid Labs Inc. is an open-source project committed to ending surveillance and censorship on the internet. Users can access Orchid's decentralized VPN service that connects them to a global pool of bandwidth providers by paying in the form of Orchid tokens. Providers act as network nodes by staking OXT tokens to share their surplus bandwidth.
Tendermint
Tendermint is a low-level protocol comprised of two main pieces: a blockchain consensus engine and a generic application interface. Tendermint Core, the blockchain consensus engine, facilitates the peer-to-peer network and provides a proof-of-stake (PoS) consensus. 
SKALE Labs
SKALE Labs is a blockchain scalability platform that provides high-speed consensus and empowers dApps to run smart contracts. SKALE acts as a middle-ware layer which provides high-speed consensus and empowers dApps to run smart contracts at the rate of millions per second on platforms such as Ethereum, EOS, and other Smart Contract Blockchain platforms.
Chainlink
ChainLink is a platform that attempts to bridge the gap between smart contracts on blockchain and real-world applications, which often tend to be off the blockchain. The cryptocurrency uses "oracles", which find and verify real-world data and bring it on-chain to be integrated into smart contracts.
3Box
3Box is an open-source data storage solution for web3 that allows end-users to manage their public and private information on the decentralized web.
DAppNode
DAppNode is a tool that allows people to host decentralized apps in a truly decentralized way, eliminating the reliance on vulnerable third party vendors and adding an extra layer of incentivization that will spread adoption of the blockchain ecosystem.
Quorum by JP Morgan
Based on Ethereum, Quorum is an open-source blockchain platform that combines the innovation of the public Ethereum community with enhancements to support enterprise needs. Quorum's mission is to make adopting blockchain a seamless process.
NEAR Protocol
NEAR is a sharded, developer-friendly, proof-of-stake public blockchain, built by a world-class team that has built some of the world's only sharded databases at scale. The blockchain is built from the ground up to make it easier to build decentralized applications easily as a non-blockchain developer.
Celer Network
Celer Network is a leading layer-2 scaling platform that enables fast, easy and secure off-chain transactions for not only payment transactions, but also generalized off-chain smart contracts.
Mo Dong, Co-Founder
POAP
PoA consensus is essentially an optimized Proof of Stake model that leverages identity as the form of stake rather than actually staking tokens. POAP is a software system that allows humans to collect badges (in the form of non-fungible tokens) every time they participate in an activity, in person or remotely.
Pepo by Ost
Pepo is an ethereum-based social media app that brings the crypto community together. Users can meet the people shaping the crypto movement, join the conversation with a video reply, and earn tokens of appreciation for sharing their work.
uPort
uPort is a self-sovereign identity and data platform that enables users to register a globally unique identifier to the Ethereum blockchain, giving users control over their identity, private keys, user accounts, and private data.
Bison Trails
Bison Trails is the easiest way to run infrastructure on multiple blockchains. We offer the premier enterprise-grade blockchain infrastructure platform. Superior Customer Service. Scaled Decentralization.
Everyone Else
BP, Staked, Sanderson IP Law, Exponential Impact, The Graph, RadarRelay, bZx, Launch Legal, Wyoming House, Colorado Governor's Office of Information Technology, Art Project, Panvala, Elliptic Curve Venture Partners, iExec, Week in Ethereum, PoolTogether, dHack, Streamr, Learning Economy, Electric Coin Company, C-lab, IDEOcoLab Ventures, True Blocks, Snell & Wilmer, Zcash Foundation, SuperRare, Artolin, Spacemesh, Textile, Defi-Zap, Archer Tax Group, , C4, State of Colorado.